WELCOME TO THE HOME PAGE

I am enthralled by the beauty in minute details, whether it is in a picture of a flower, portraits, animal scenes or landscapes. I simply cannot let a drawing or painting be finished until the details are just right. I use colored pencils or oil, acrylic or watercolor paints to hone in on those fine details.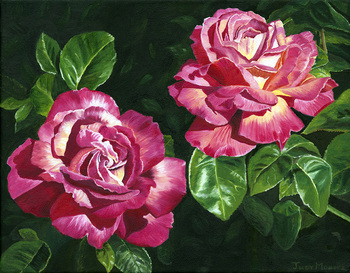 Chrysler Imperial Roses, Oil Painting, 11" by 14"
My background as a research nurse and my love of sewing, quilting, and gardening has naturally led me toward a colorful and precise realistic style.
If you are interested in buying original art or giclee prints, please contact me at info@judymoritzfinearts.com.
If you email me at the above address and tell me which painting you would like to purchase I will send you an invoice via email that will allow you to pay using PayPal. You do not need to have a PayPal account to use this free, secure service. If you prefer to pay in some other way we can work it out via email or phone.
---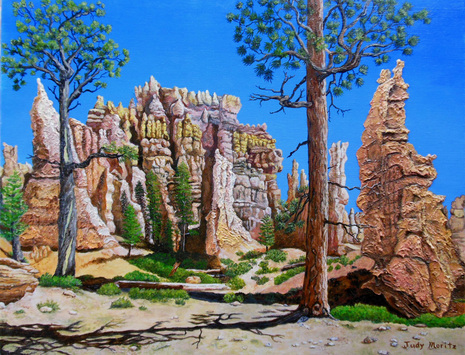 When a scene is special to me I relive the experience by painting or drawing it. My husband and I love to travel and camp in our VW Eurovan in the U.S. and Canada. During these times I have taken many pictures for future paintings as well as done some en plein air (on site) painting and drawing.

Many landscape and international scenes that I painted are from pictures taken while bicycle touring in Europe and New Zealand. I also love painting pictures of family members and people in scenes, trying hard to capture their actions and emotions.

---
All pictures are copyrighted by Judy Moritz and are not eligible for reproduction by anyone else.